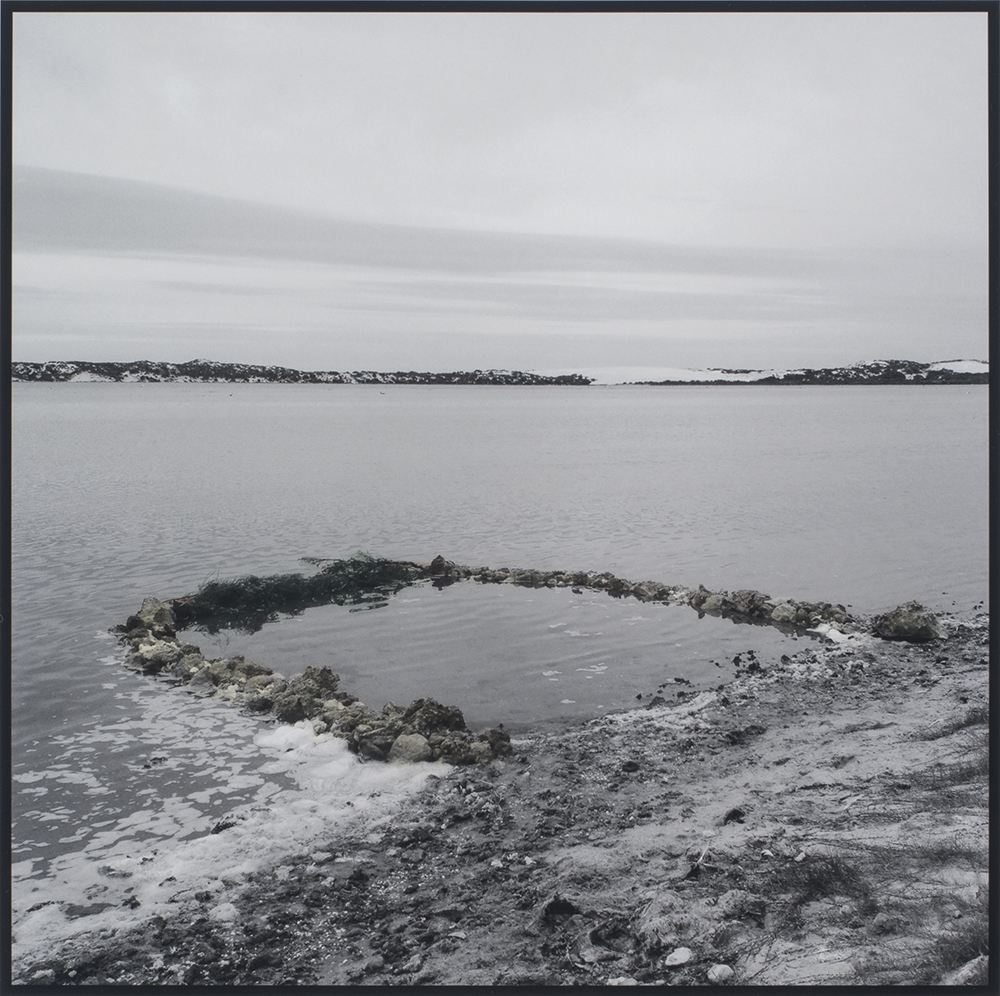 Responding thematically to Robert Smithson: Time Crystals, in site juxtaposes Australian experimental art practice from the 1960s and 1970s with more recent artworks that explore related ideas. Performative, site-specific or conceptually based, many of the works engage with the landscape through documented interventions that connect to environmental, political, or artistic concerns. Ahead of the opening this week, we delved deeper into some of the exhibition themes with curator Michele Helmrich.
Q: Christo and Jeanne-Claude's Wrapped Coast 1968–1969 is the departure point upon which this exhibition premise was developed. Can you tell us a bit about that artwork and its significance?
A: Samantha Littley and I curated in site: process, performance, documentation as a thematic response to the exhibition Robert Smithson: Time Crystals. We were focussing on artworks from the UQ Art Collection and were struck by the commemorative print of Christo and Jeanne-Claude's Wrapped Coast – one million square feet, Little Bay, Sydney, Australia 1968–69 2009. This work was a highly publicised example of land art in Australia, and preceded Smithson's famous Spiral Jetty made on the shore of Great Salt Lake in Utah in 1970.
Wrapped Coast involved site, process and duration. It was an early example of an artistic practice in which the 'work' of gaining the permissions of local authorities, harnessing a (primarily paid) workforce, and making an emphatic yet ephemeral mark on the landscape were all essential parts of the artwork. The resulting 'wrapped coast' was in place for a period of 10 weeks from late October 1969.
Q: This exhibition explores performative, site-specific or conceptually based experimental artwork from the 1960s and 1970s juxtaposed against contemporary Australian artwork from the genre. Despite the 50+ years separating the production date of many of these artworks, are there certain themes or issues that artists keep returning to?
A: The first work you encounter is Tim Silver's skull made of dirt, titled sculptural remnant from untitled (killing me softly) version 2 2006. The artist had installed a skeleton made from dirt in a national park, the work suggestive of entropy and decay. This remnant sits in unlikely conversation with James Tylor's series of photographs, 'Un-resettling (Hauntings)' 2016. Tylor made a series of isolated and largely ephemeral interventions in national parks, places where many activities are restricted or prohibited. An artist with Nunga heritage, he defied such restrictions to reintroduce evidence of Indigenous occupation and cultural practices – a 'Native Rat Trap', 'Bird Hide' or 'Bird Snare' – into the landscape, which he then documented with hand-coloured photographs. While his Un-resettling (Stone Tidal Fish Trap) might be suggestive of Robert Smithson's Spiral Jetty, in Tylor's case it is a matter of relearning and reviving traditional culture, while quietly asserting that such contemporary zones of Wilderness were never unoccupied by Aboriginal people.
In comparison, Tim Johnson's series of small photographs, Fittings, Megalong Valley 1971, document his curiously entangled and scantily clad performance in this vast bushland setting. In equally isolated settings are Shaun Gladwell painting with aerosol cans beside an outback highway in his video Planet & Stars Sequence: Barrier Highway 2009, and Darren Siwes's photographs from his series 'Dalabon Dalok (Dalabon Woman)' of 2011 that document female relatives on Country in Arnhem Land as they strike the pose of Leonardo da Vinci's Vitruvian Man. Other key performative works are Mike Parr's endurance work 100 Breaths 2003 (performed without an audience) and Clive Murray-White's Smokebomb Sculpture 1971/2006, the latter ephemeral work having taken place on UQ's St Lucia campus in 1971.
Like Tylor, Rosemary Laing made an intervention in the landscape specifically for a photographic outcome in her large-scale photograph Aristide 2010. We find a grand view of an upside-down house frame in sheep country, reminiscent of nationalistic landscape traditions of the early twentieth century. Laing's intervention, however, subverts such visual language and draws attention to encroaching suburbia. While Laing never intended Aristide to be a public spectacle 'on site', it does share with Wrapped Coast an extensive process of preparation.
Q: In the 1960s, on the other side of the world, Robert Smithson was pushing boundaries with his explorations into radical land art and ideas of crystalline geometry and non-biological time. Were Australian artists represented in in site engaged directly in this scene in the US and with the likes of Smithson?
A: No, not so much land art. But Ian Burn arrived in New York in mid-1967, where he studied the black paintings of Ad Reinhardt and the work of the minimalist and conceptual artists, and was involved with the group Art & Language. While UQ holds an example of Burn's 'Blue Reflex' series of 1966–1967 and Mirror piece 1967, for in site we included his Systematically Altered Photographs 1968, in which Burn's interest in the difficulties of seeing and perceiving is conveyed in image and text. In this work, he famously took images from the Australian News and Information Bureau's publication Australian Panorama, which offered a sales pitch on Aussie urban and suburban life, and degraded them by photocopying them multiple times until they were little more than a field of dots. Juxtaposed with the original image, and with a text piece theorising on the role of language as a 'grid which structures our perceiving', he appears to cast doubt on how we understand both 'sight' and 'site' through photographic and verbal language.
It is worth comparing Burn's conceptual deconstructing of an airbrushed urban Australia with Glen O'Malley's The Western Suburbs of Melbourne 1977. This was an Australia not likely to feature in Australian Panorama. With O'Malley's photographic series, we go on a road trip through industrial areas and the less picturesque side of Port Phillip Bay, visiting the suburban streetscapes and parklands of working people, and glimpsing locals on their bikes and horses. Robert Smithson may well have enjoyed visiting some of these nondescript industrial sites!
Road trips also bring to mind the work by Claire Healy and Sean Cordeiro, Wohnwagen (Flatpack – Past Times) 2006–2007. However, in this instance it is the vehicle of travel that is deconstructed. A series of six photographs document an old-style caravan being dismantled and then assembled in parts onto wooden shipping pallets. The documented sequence from caravan, on 'site', to its subsequent exhibition as a stacked object in an art gallery reflects Robert Smithson's dialectic between 'site' and 'non-site'.
Q: At the more contemporary end of the show, is there an artwork or two that particularly resonates with you?
A: A recently acquired work is Nici Cumpston's Listening to the River 2005–2016, a resonant hand-coloured photograph of flooding near Katarapko Creek in the Murray River National Park. The work pays tribute to the artist's Barkindji heritage and to the river system's ecology. Rivers also feature in Anne Ferran's videos Body of Water 2011 and Swansong (Tchaikovsky remix) 2013, made in London and Sydney respectively, while Bonita Ely's etching Life is full of situations 1978 may have been made 40 years ago, but it reminds us of Ely's significant ecologically based work, including her famous Murray River Punch performance of 1980.
Another work not previously exhibited at UQ is Dave Hullfish Bailey's group of collages based on the Aboriginal flag, Proposals for some possibly useful reconfigurations 2011. It also has a river reference, as it relates his recurring CityCat ferry performances undertaken with Aboriginal elder Sam Watson, but also the boat races staged on the Brisbane River in the 1930s. The collages propose a set of sails for a contemporary version of such a racing skiff. As Rex Butler has pointed out, racing terms such as 'running', 'reaching' and 'beating' (each with an appropriate sail) could equally have been used when authorities maintained Brisbane's evening curfew in the late nineteenth century that stopped Aboriginal people from entering the town's boundaries.
Another recently acquired, if not so recent work is Robert MacPherson's "GILGAI: RAIN, AND SIX KINDS OF RAIN, SEVEN FROG POEMS FOR CLEMENT WRAGGE" 1990–1991. A minimal installation of seven metal old-style wash tubs sit in a row on the floor, holes cut in their bases, defying their purpose as water containers. Their simplicity masks a web of meaning, whose key lies in part in the work's title. Clement Wragge was a 'Government Meteorologist' in Queensland at the turn of the twentieth century; 'Gilgai' is an Aboriginal word for depressions in the landscape that are transformed by rain into wetlands; and the holes in the tubs specifically represent 'six kinds of rain', being meteorological symbols that have fallen into disuse. The work could be regarded as a cryptic form of haiku poem, pared back yet conceptually rich.
in site: process, performance, documentation will run from 10 March – 5 August 2018 at UQ Art Museum. Join exhibition co-curator Michele Helmrich in conversation with artists Clive Murray-White and Glen O'Malley on Saturday 10 March at 12 noon. RSVP