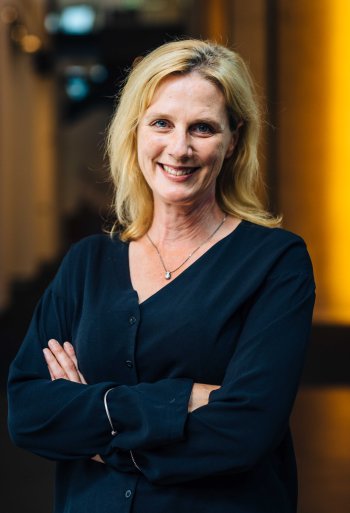 UQ Art Museum's Advancement Manager Wendy Mansell joined the team just before the COVID-19 pandemic began to unfold in Australia. Now that we've reopened and life has returned to a new normal, we wanted to share a bit more about Wendy and the incredible wealth of experiences she brings to her work at UQ Art Museum, and the very special community of people who support us.
After studying music performance, I gravitated toward arts management as I loved working in creative environments, but was always interested in too many things to have the kind of singular focus that is needed to be successful as a performer. When I first moved to Toronto I still thought that I would prepare to audition for further study in vocal performance, but the truth is that I needed money to live, and an entry level job with an artist-run gallery allowed me to still feel connected to my creative life while also contributing my writing and business skills where they were needed. That job with the artist collective connected me with the people who would go on to give me opportunities over the next decade, including working with an amazing editor at both Canadian Art magazine and Opera Canada Magazine, a stint with a private contemporary art gallery, and two years with an independent record label. 
My first dedicated fundraising role came after working in the arts sector for close to 20 years. As most of the organisations I had worked with had been not-for-profit, dealing with different types of funding and support was always a matter of necessity.
Over time, I found that working with donors and foundations to be the most fulfilling aspect, thanks to the values alignment between the arts and philanthropy.  
In 2013, I was given an opportunity to leapfrog from arts fundraising to advancement roles in higher education, and spent three years in Canada in the university sector. Learning to apply skills in this setting was a very steep learning curve, but I loved the challenge of needing to master new subject knowledge, and found that I really enjoyed working within the academic community and seeing first hand how research and education enables positive transformations in all areas of human life.
But I also missed working in the arts, particularly as I could see the way that artists are often quite far ahead of the curve in asking critical questions, pushing boundaries, and finding new ways to apply knowledge. Working at UQ Art Museum represented an opportunity to bring two worlds together that inspire and excite me the most – the arts and academia. 
There are many different study pathways that might lead to work in advancement –journalism, marketing/communications, and business being a few examples.
I think the most important qualities are deep curiosity about people and things, a genuine hunger for continuous learning, and the ability to articulate how what happens within our walls contributes to a better world. That may sound idealistic, but if you don't truly believe in the importance of what you're doing and respect the people you work with, you can't inspire others to give.
Coming from a family of writers and years of experience in small business also gave me a solid foundation for creating compelling proposals, and being able to think on my feet about what impact can be achieved at different levels of support.
Working in advancement in a university provides an amazing opportunity to meet and work with people – philanthropists, researchers, museum professionals and others working across campus, and students – who are deeply invested in creating a better world for everyone. Every day when I come to campus, I feel incredibly lucky to work in such a beautiful space and place.
Hear more about Wendy's pathway to an arts career in our new podcast series Becoming GLAM, hosted by UQ student Riva Charles. Listen here.