Mare Amoris | Sea of Love: Curatorial Tour
30 September 2023

2:00pm

–

3:00pm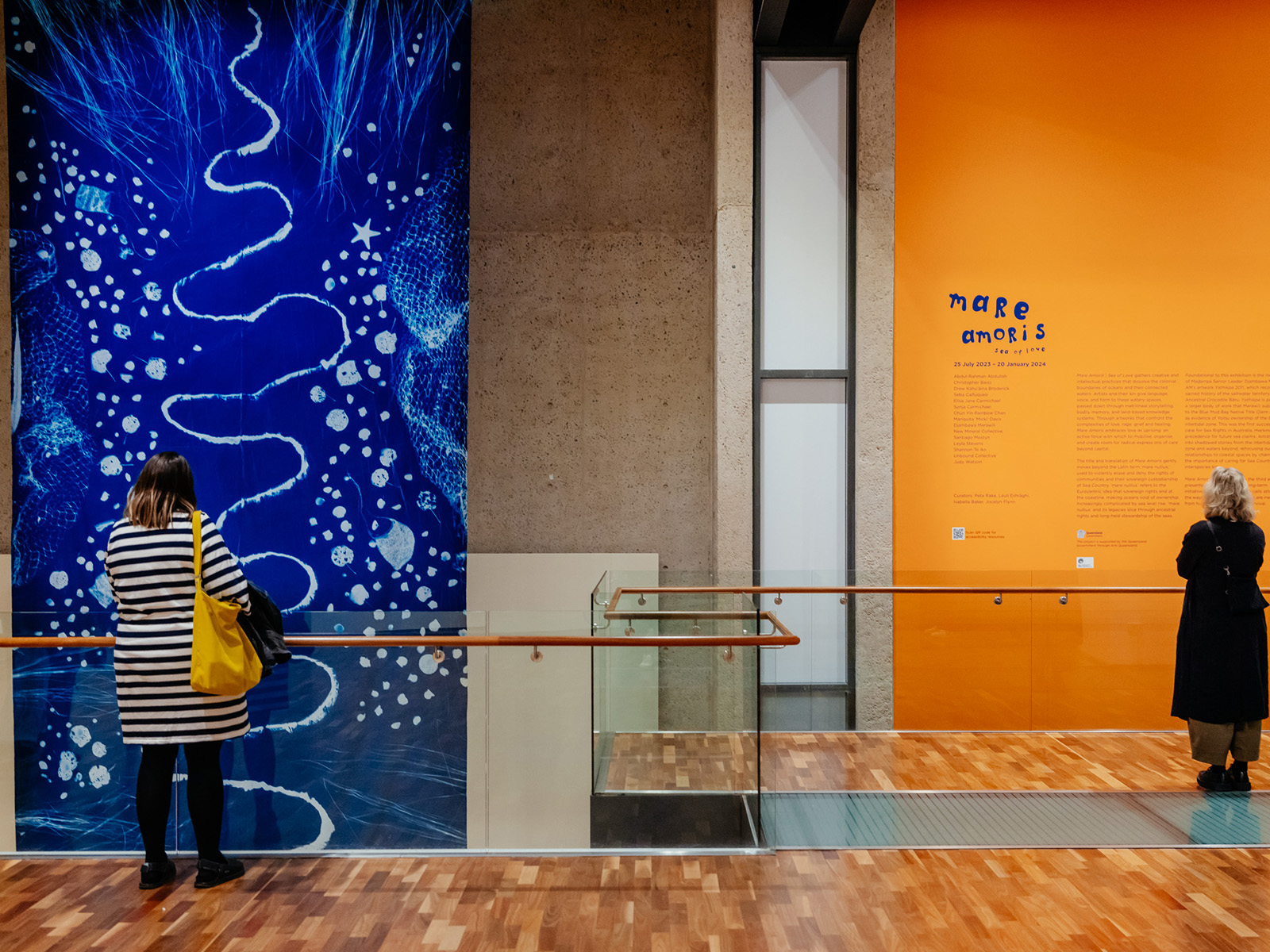 Gain insights into the curatorial thematic from Peta Rake (Acting Director/Senior Curator), Jocelyn Flynn (Curatorial Assistant), and Isabella Baker (Assistant Curator) in a free curatorial tour of Mare Amoris | Sea of Love. The curators will provide a floor talk of selected artworks in the exhibition that confront the complexities of love, rage, grief and healing. "Mare Amoris: Sea of Love" embraces love as an uprising: an active force with which to mobilise, organise, and create room for radical expressions of care beyond capital.
Artists in the exhibition include: Abdul-Rahman Abdullah, Christopher Bassi, Drew Kahuʻāina Broderick, Seba Calfuqueo, Elisa Jane Carmichael, Sonja Carmichael, Chun Yin Rainbow Chan, Mariquita 'Micki' Davis, Djambawa Marawili, New Mineral Collective, Santiago Mostyn, Leyla Stevens, Shannon Te Ao, Unbound Collective, Judy Watson. Curators: Peta Rake, Léuli Eshrāghi, Isabella Baker, Jocelyn Flynn.
Program:
2:00pm: Curatorial tour begins in UQ Art Museum Foyer
2:45pm: Curatorial tour ends
3:00pm: UQ Art Museum closes
Please note any accessibility requirements through the Eventbrite registration page. The option to provide this information will be available on the page after you click 'Register'. Please note that a two week lead time is required to secure Auslan interpretation for this event.
Visit our website for our accessibility information.
This project is supported by the Queensland Government through Arts Queensland.
________________________________________________________________________________
Peta Rake
She/her. Born 1987, Meanjin/Brisbane, Turrbal and Yuggera Country. Rake is the Acting Director / Senior Curator at the University of Queensland Art Museum, Meanjin/Brisbane. She has held various roles at CCA (San Francisco); Institute of Modern Art (Brisbane); Banff Centre for Arts and Creativity, including Co-Director of Creative Residencies, Visual + Digital Art Department and full-time Curator of Walter Phillips Gallery/Banff International Curatorial Institute (BICI). Independently she has curated exhibitions at ISCP (New York); Oakland Museum of California (Oakland); CCA Wattis Institute for Contemporary Art (San Francisco); Art Gallery of Alberta (Edmonton); Luggage Store Gallery (San Francisco); Esker Foundation (Calgary).
Isabella Baker
She/her. Born 1993, Bournemouth, UK. Lives and works in Meanjin/Brisbane. Baker is a curator, writer, visual thinking strategies facilitator, and is Assistant Curator at the University of Queensland Art Museum. Isabella holds a Master of Museum Studies from The University of Queensland, Brisbane (2018); and completed an Advanced Practicum of Visual Thinking Strategies at the Brooklyn Museum, New York (2018). Key projects include All my friends are (leaving) returning to Brisbane, Curator, Outer Space Brisbane (2021); Workshop, Co-curator, UQ Art Museum (2019–2020); and a solo-exhibition of Judy Watson: concealed histories, Co-curator, UQ Art Museum (2018). She has written texts for The Australian; Arts Hub; Runway Journal; Lismore Regional Gallery; Perc Tucker Regional Gallery; and Hecate: Feminist Literary Journal.
Jocelyn Flynn
She/her. Born 1998, Port Moresby, Papua New Guinea. Lives and works in Meanjin/Brisbane. Flynn is an emerging writer, curator, and Curatorial Assistant at the University of Queensland Art Museum. She holds a Bachelor of Humanities (Art History) from the University of Queensland. She has previously worked and volunteered for various institutional, corporate and community art organisations including the Institute of Modern Art (Brisbane); Metro Arts (Brisbane); and Milingimbi Arts and Culture (NT). She has written texts for the Ian Potter Museum of Art, Old Quad University of Melbourne; University of Queensland Society of Fine Arts; and Queensland University of Technology's Post Datum.
________________________________________________________________________________
Photo: Joe Ruckli
Image Description: Artwork, "Wagari: Dabiyil, Biram - Vessel: water and sky (Nuit Blanche series)", by Elisa Jane Carmichael, Sonja Carmichael, and Freja Carmichael depicts fluid line and circular forms of baskets, with a blue background.