Panel discussion: Paving the way for Queer expression
25 August 2023

1:30pm

–

3:30pm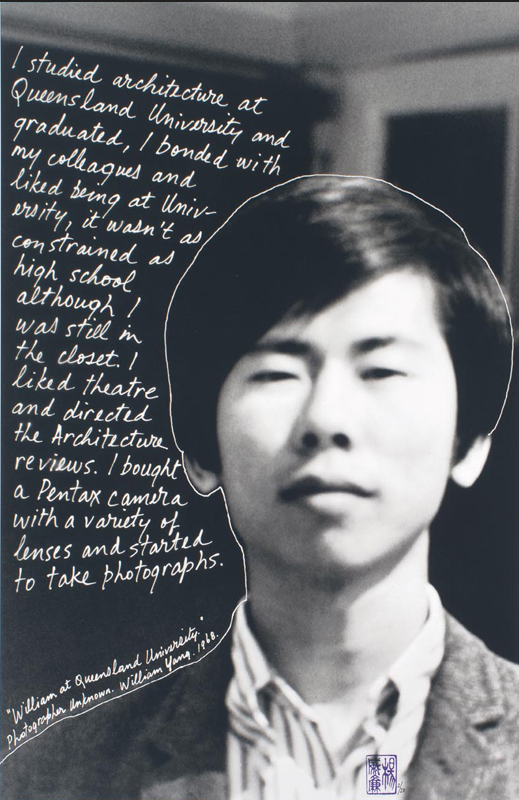 Join us for a free panel discussion to explore how Queer expression in the arts can validate Queer experiences and provide a sense of belonging for upcoming generations. The multi-generational panel brings together LGBTQIA+ artists, writers and creative leaders to share their stories and reflect on what has inspired them – and how we can work together to inspire future generations of LGBTQIA+ youth. . 
After the discussion, join us in the Foyer to continue the celebration over free food and drinks. Don't forget to wear your best purple outfit to celebrate LGBTQIA+ youth!
Panellists
Dr Karin Sellberg, School of Historical and Philosophical Inquiry, UQ

Darby Jones,

UQ HASS Student (Bachelor of Arts (Anthropology and English Literature), HASS Aboriginal and Torres Strait Islander Scholar, and UQ Art Museum Mediator

Jarad Bruinstroop, Meanjin-based writer, UQP Author

Dr Sal Edwards, artist, designer, researcher and teacher with a background in fashion design, research and teaching

Moderator:

Professor Heather Zwicker, Executive Dean, Faculty of Humanities, Arts and Social Sciences
About the panellists
Professor Heather Zwicker has been the Executive Dean of UQ's Faculty of Humanities, Arts and Social Sciences since 2018. Her research brings postcolonial and feminist theories to bear on problems such as stereotypes, universities, classrooms, and cities and  seeks to understand concepts that explain the world we inhabit. Professor Zwicker holds a PhD from Stanford University and is the winner of several awards, including the 3M National Teaching Fellowship.
Dr Karin Sellberg is a Lecturer in the Advanced Humanities (Honours) Program, School of Historical and Philosophical Inquiry. She specialises in feminist and queer historiography, contemporary fiction and theories of gender, sexuality, embodiment and time. Karin is currently working on evolutionary tropes, and ideas of transcendence/progress in new materialist feminist philosophy and the fiction of Jeanette Winterson, Angela Carter and Gore Vidal. Karin's pronouns are she/her.
Jarad Bruinstroop's debut poetry collection, Reliefs, won the 2022 Thomas Shapcott Poetry Prize and is available now through UQP. In 2023, he won the Val Vallis Award. His work has appeared in Meanjin, Overland, Island, Westerly, Australian Poetry Journal and elsewhere. As The University of Queensland Fryer Library Creative Writing Fellow, he is developing a novella cycle that draws on Brisbane's Queer history and the Fryer Library special collections. He holds a PhD in Creative Writing from QUT where he also teaches. His pronouns are he/him.
Darby Jones is a Meanjin-based writer, editor, and critic. During his time at UQ, he has been the recipient of the inaugural HASS Aboriginal and Torres Strait Islander Scholarship, the Peter Hoj and Mandy Thomas Scholarship, and the Kingshott Cassidy Poetry Award. In addition to this, he has recently been awarded a Varuna First Nations Writing Fellowship to develop his manuscript, "Unintelligible Bodies".
Dr Sal Edwards is a non-binary artist, designer, research and teacher. Their research and practice are focused on examining historical notions of masculinity in the West through the lens of dress, to deconstruct distinct historical gendered narratives of the past and examine how they have been perpetuated through fashion and the body. They develop curriculum and teach fashion design, history and theory and skills-based workshops at Queensland University of Technology, Collarts, JMC Academy and the International College of Management, and QAGOMA. Sal's pronouns are they/them/theirs.
About Wear it Purple Day at UQ Art Museum
Celebrate Wear it Purple Day at UQ Art Museum! We're celebrating all day with activities on the Art Museum lawn and inside the UQ Art Museum from 10am-4pm.  
We'll be hosting talks, artwork displays, creative activities and stalls that celebrate the stories and contributions of the LGBTQIA+ community. 
Wear it Purple was founded in 2010 following global stories of real teenagers, real heartache and their very real responses. The day strives to foster supportive, safe, empowering and inclusive environments for rainbow young people.
Thank you to UniSuper for their support of our Wear it Purple Day program.