Celebration of the 4th National Indigenous Art Triennial: Ceremony
24 September 2022

2:00pm

–

5:45pm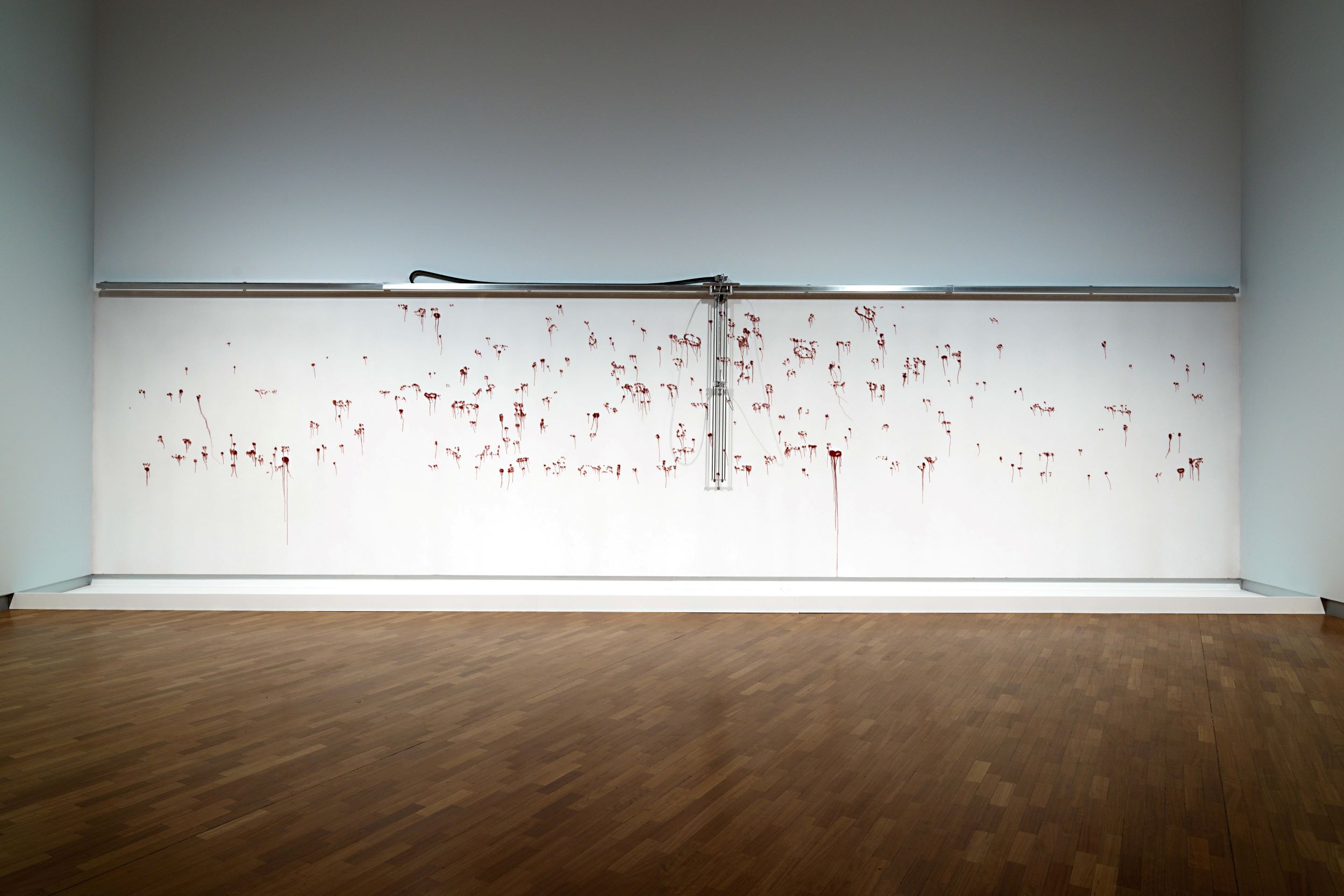 Join us for a celebration of the 4th National Indigenous Art Triennial: Ceremony, which will include talks, performances, and live music with food and drinks. 
The Triennial is the National Gallery's flagship exhibition of contemporary Aboriginal and Torres Strait Islander art. 
Ceremony remains central to the creative practice of many Aboriginal and Torres Strait Islander artists. From the intimate and personal to the collective and collaborative, ceremonies manifest through visual art, film, music and dance. 
Featuring the work of artists from across Australia, this exhibition reveals how ceremony is at the nexus of Country, of culture and of community. 
The 4th National Indigenous Art Triennial: Ceremony is a National Gallery Touring Exhibition supported by the Australian Government through Visions of Australia and National Collection Institutions Touring and Outreach Program. The exhibition is made possible through the continued generosity of the National Gallery's Indigenous Arts Partner Wesfarmers Arts and key philanthropic supporters.
The University of Queensland Art Museum gratefully acknowledges the generosity of The Honourable Anthe Philippides SC in supporting this important exhibition for the Art Museum's audiences.

Program 
2–3:15pm: 
Acknowledgement of Country
Artist talks with Robert Andrew, and SJ Norman's collaborator Aidan Hartshorn
3:15–4pm:
Curatorial tour of Ceremony with National Gallery curators Kelli Cole and Peter Johnson
4–5:45pm:
Bar and live music performance by Yirinda
The event concludes at 5:30pm 
Booking information 
You are welcome to attend one of the sessions or all of them. Please book for each separately. 
Registration is essential as places are limited. If you are no longer able to attend, please release your ticket. 
Visitors including students who are under 18 years of age are very welcome to attend. As this is an all ages event, please be ready to present your ID at the bar when requested if you are purchasing alcoholic beverages. 
Artist Bios
Aiden Hartshorn
Yalgalu (Wolgal)/Wiradjuri People
Lives and works in Kamberri/Canberra 
Aidan Hartshorn is a Walgalu (Wolgal)/Wiradjuri man from the Snowy Mountains region of NSW now living and working in Kamberri/Canberra - an area of his Ancestral Country. While working on Ceremony , Hartshorn advanced his curating skills while also contributing to three exhibiting artists' commisions within the exhibition. In addition to his work with the National Gallery of Australia, during 2021 Hartshorn was also accepted for a secondment agreement with ANU to begin work on the Murrudha: Soverign Walks project as a research assistant under Dr Brenda L. Croft. It is here that his passion for research and archial investigation expanded, broadening his outlook on his artistic practice. 
Robert Andrew  
Yawuru People  
Lives and works Meanjin/Brisbane, Queensland  
Robert Andrew is a descendant of the Yawuru people, whose Country includes the lands and waters in and around Rubibi/Broome in the Kimberley region, Western Australia. A kinetic sculptor, Andrew explores his Yawuru ancestry through his practice and engages with modes of visual storytelling that rely on programmable technologies. For the last 20 years he has been based in Meanjin/Brisbane on Jagera and Turrbal Country. In 2012 Andrew graduated with a Bachelor of Contemporary Australian Indigenous Art from the Queensland College of Art, Griffith University, Meanjin/Brisbane, and subsequently received a Doctorate in Visual Arts in 2019. In 2013 he was awarded the Griffith University Medal of Excellence and five years later won the 2018 Alice Prize. Andrew's public artwork Garabara 2018 was commissioned for the Faculty of Arts and Social Sciences Building, University of Sydney, and his work was included the 2019 edition of The National: New Australian Art at the Art Gallery of New South Wales and Afterglow, the 2020 Yokohama Triennale in Japan. 
Yirinda 
Yirinda's inimitable blend of ancient Aboriginal language and the improvisatory sublime pierces to the core and sidesteps all expectations. Fred Leone and Samuel Pankhurst's music invokes the sounds of thousands of generations of story and culture.   
Fred Leone is one of the three Butchulla songmen. Butchulla country is in the Fraser Coast region including K'gari (Fraser Island). Samuel Pankhurst is an internationally acclaimed contrabassist / producer known for his kaleidoscopic combinatorial harmonies and polyrhythmic mastery.   
Often described as 'holographic' and at all times visual, the duo's sound is a result of their willingness to be guided by the ancient stories of Fred's old people. Leone and Pankhurst cast their lines far away from the dogmas, presumptions, and conventions of Western musics. 
Yirinda means 'Now' in Butchulla language.  
About Celebration of the 4th National Indigenous Art Triennial: Ceremony