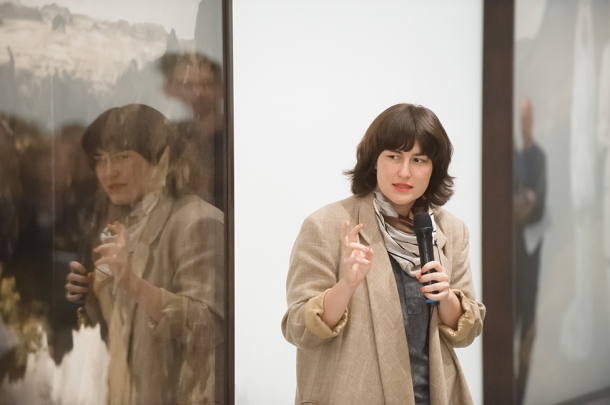 Ellie Buttrose is Associate Curator of International Contemporary Art at the Queensland Art Gallery | Gallery of Modern Art, where she serves on the curatorial team for the Asia Pacific Triennial of Contemporary Art. Ellie graduated from The University of Queensland with a Bachelor of Arts majoring in Art History and Philosophy. At QAGOMA, Ellie's most recent exhibition 'Limitless Horizon: Vertical Perspective' is currently on display until 25 March 2018. Ellie was the coordinating curator of 'Cindy Sherman' (2016), which toured to City Gallery Wellington, New Zealand; the curator of 'Harvest' (2014), 'Divided Selves' (2014), 'The Otolith Group' (2013); and co-curator of 'Sculpture is Everything' (2012) and 'Pacific Jewellery' (2009). Outside of her role at QAGOMA, Ellie is a regular contributor to art magazines and exhibition catalogues, and is a contributing curator to 'Cosmopolis', Centre Pompidou, Paris (2017).
Q: You are Associate Curator of International Contemporary Art at QAGOMA – a job coveted by many, including students sitting where you once sat in UQ Art History classrooms. What key learnings from your Art History degree did you take into your working life? Are there any gems in particular that have stayed with you? 
A: Enthusiasm is infectious. I was lucky enough to be taught by people who loved art. One lecturer got so passionate about their subject that they leapt on a table and started jumping up and down! If you are enthusiastic about the artworks you're working with or writing about, people will want to hear what you have to say about them.
Use simple language when talking about art. I've read too many – and admittedly have been the author of a few – overly obtuse texts. Inaccessible writing does artwork no favours. One of the pleasures of working with art is being able to speak about it with other people. About its nuances. How and why it was made. Why it elicits a certain reaction within you. But this is impossible if you cannot communicate these ideas clearly.
Q: What does an average day look like for a curator working with contemporary international art? 
A: I relish speaking with artists, researching artworks or installing exhibitions! But unfortunately that is not the average day. There is a cyclical pattern to the work at public art museums. Depending on the stage of an exhibition the day can involve organising spreadsheets and cross-checking the finer details; time in the library researching and writing; and working in international art in Australia can involve Skyping with artists after dinner and calling dealers before breakfast. But mostly my days are filled with emails, emails, emails…
It can take years to realise a project, and maintaining high museum standards means hours of meetings with teams in exhibition design, conservation, registration, logistics, publications, and so many more. One of the truly great things about working in a big institution is working with specialists who are experts in their fields. Depending on the project I can learn unexpected facts, such as the lifespan of carwash brush motors or that porcupines are protected in Italy so there are special requirements for exporting the animal's quills.
Q: What kinds of skills are the most critical to the work you do and what do you love most about it? 
A: For the last Asia Pacific Triennial I was able to commission an expansive project that took up a whole gallery and included 140 objects. The artists spent two weeks on site realising the final installation, and while they had an idea about what they would produce for the exhibition, their practice is premised on improvisation. Improvisation is not something that comes naturally to large public art museums, which operate under many rules and regulations to ensure the safety of the artworks, as well as the public. So my role was to build flexibility into the project that met the museum's standards and the artists' needs. This meant I had to be across a high level of detail and hone my negotiation skills. What made this easy was that the people I was working with at the art museum believed in the project. The real highlight was to be able to talk with the artists over a long period of time about the artwork, different forms of collaboration, and the politics of improvisation.
Q: Has there been a career highlight for you so far and why? 
A: I have just installed an exhibition at GOMA entitled 'Limitless Horizon: Vertical Perspective'. The show is about the many aesthetic histories that use vertical perspective and the political inflection in the idea of the horizon line. I appreciate being able to work with a wide breadth of art practices. I am currently reading books on the history of drones in warfare and the use of perspective in Australian Indigenous painting. For this exhibition I was able to work with contemporary film and video artists and show their work alongside artworks from the art museum's collection. I am presenting moving image works spatially in the gallery, as well as in a durational program for the cinema. One of the advantages of working at QAGOMA is that it is the only state art gallery with a Cinémathèque.
Q: What advice would you give students who are seeking to work in curatorial positions? 
A: Talk to artists. I have found most artists to be very generous with their time and their ideas.
Read. When I'm working on a project I try to read everything I can find on the artist, the aesthetic histories that inspire them, the cultural and political context in which they work, and their philosophical and literary interests.
Look at exhibitions. I try to see as many exhibitions as possible – even if I expect that I might not like a show – and talk to friends about what I enjoyed and what I might have done differently if I had curated it.
Make exhibitions. Some of the most memorable shows I've seen have been the smallest shows or when the curator and artists thought laterally due to spatial, budget or political limitations.
UQ Art Museum is open daily from 10 am until 4 pm. The Art Museum offers a range of public programs and opportunities for students. Register to receive our e-news and invitations and follow UQ Art Museum on Facebook to keep up to date