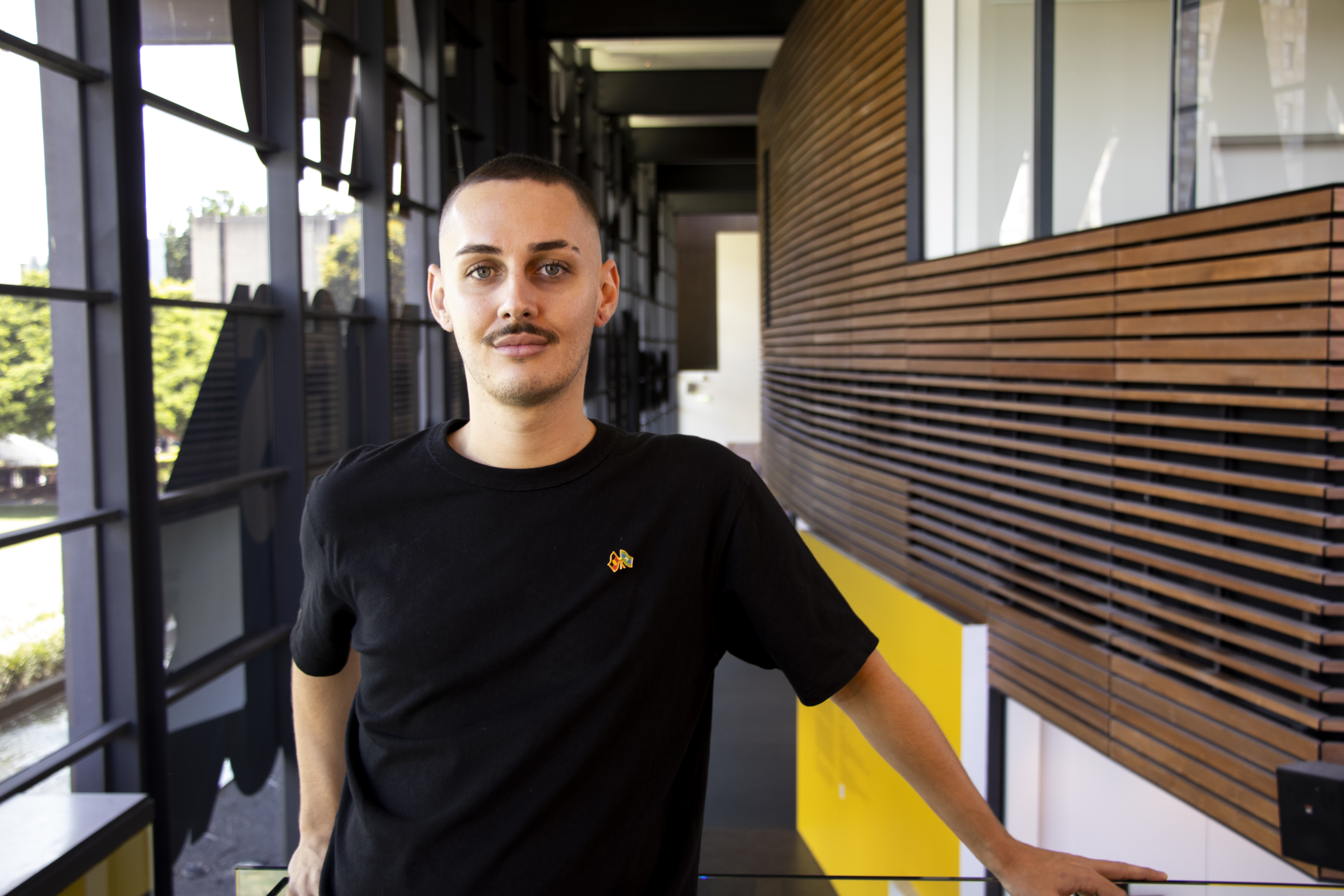 This article was written by former Kinnane Endowment Intern Adam Ford.
Type, type, delete. Type, type, delete. If you're reading this, I've managed to start putting into words the year that has just been—my year as the UQ Art Museum's Kinnane Endowment Fund "All Rounder" Intern.
When I applied for the UQ Art Museum Kinnane Endowment Fund Internship, I wasn't expecting that I'd be the successful applicant. I had the grades but lacked professional experience. I knew of previous interns who had grades, experience, and then some. So, what hope did I have, I thought?
Well, apparently, lots. And I'm glad I didn't write myself off before I even got a chance to open the book because this has been the best read of my life. Where I saw a deficit or lack in terms of professional experience, the Art Museum saw opportunity. What I thought was a closed path, the Art Museum opened to me as a two-way street.
Discovering my strengths
What has made this internship so special was the piloting of a new mode of delivery. The Art Museum worked with me, and perhaps around my shortfalls in experience, to allow me to discover my strengths and to be able to locate them within one of the many avenues of arts work. Rather than work solely within the departments of Curation or Registration for a year, I was able to work across both, including working with Engagement, too. There was a real desire on the part of the Art Museum to give me a holistic sense of what working in an arts institution is, and to equip with me the tools that I would need to make a career out of that.
Under the supervision of Danielle Harvey, Senior Team Leader, Engagement and Training, I spent a year (well, technically, thirteen months but who's counting?) equipping myself readily with such tools and have stepped headfirst into my career. And what a year it was!
Unforgettable moments
In February 2021, I launched my internship with the OCCURRENT AFFAIR: proppaNOW exhibition, which featured the works of the Brisbane-based Indigenous artist collective proppaNOW. As an Indigenous man, this was a full-circle moment, felt before I even could say I had come right around! Throughout the exhibition, I had incredible moments including painting a mural with Tony Albert and chairing the UQ Art Museum x National Reconciliation Week 'You can't ask that...' panel, which exhibiting artist Gordon Hookey sat on.
Since then, I was fortunate enough to work on many projects and tasks, each as different as the last. With Danielle, who has pioneered the visitor engagement practice of Cultural Mediation at the Art Museum, I developed the Semester 1, 2022, Cultural Mediation practice and exhibition handbooks, which the team of Mediators used to engage our visitors over the course of the 'Oceanic Thinking' exhibition. With registrars Sheryn and Effie, I updated the Indigenous artists in the collection database, double and triple-checking Country and language group associations. I also began the process of researching how we might formalise or standardise how these artists are named and recorded, both in the collection and in didactic or exhibition labels. Getting to work, again, with an Indigenous point of reference, was something I won't forget.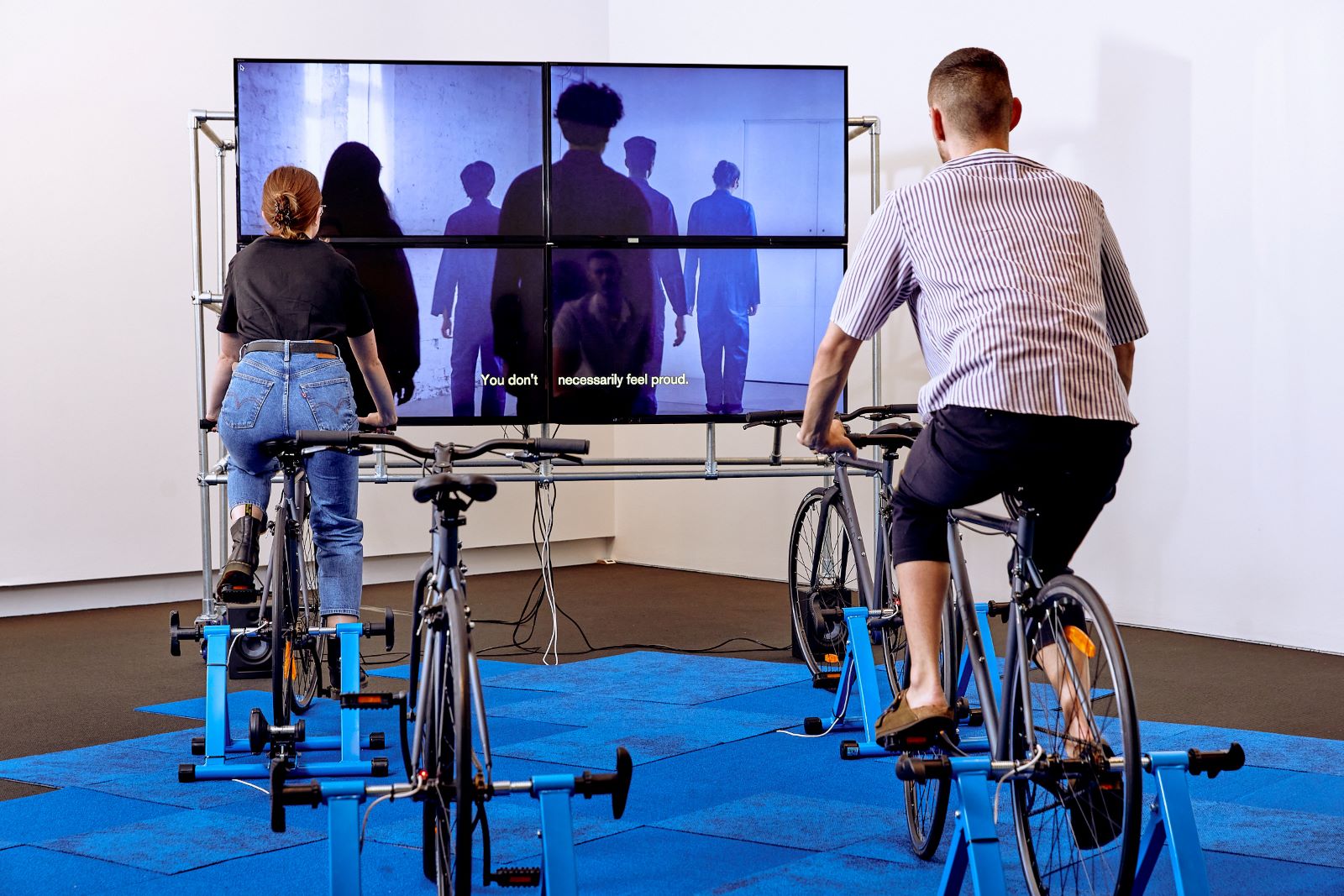 Hands-on, practical experience
With Senior Curator Peta Rake, I got to throw myself in the deep end of curatorial research, which often took me in many directions and saw me develop my didactic writing skills. Bearing witness to the amount of research that goes into curating UQ Art Museum shows set the bar high for my own self-expectations, especially since it is curation that I have (after some thirteen months) set my heart on.
In the last few months of my internship, I worked closely with the Kinnane Registration Intern, Chloe Marston, where we spent several weeks doing a solander box (fancy art term for art storage box) stocktake—essentially accounting for every box and every artwork assigned to them. Getting such a hands-on, up-close and intimate experience with much of the collection was invaluable, and my sense of appreciation not only for the craft but for the work we do, really crystallised.  
At every single turn, the Art Museum team encouraged and facilitated a truly hands-on, practical experience. We jumped headfirst into opening nights, the install and de-install periods between exhibitions, talks, tours, and everything in between. I got to meet artists, not just as these mythic figures we know of only through their works, but as actual contemporaries, and in some instances, as friends. Much can be said about my colleagues here, many of whom I know I will count as lifelong friends and mentors. Never underestimate the power of having people to cheer you on!
As I write this in the last week of my internship, I look back with unwavering gratitude and a roster of unbelievable memories. I laughed, I cried. I laughed some more. I gave myself over completely to this new experience and leant into every and any opportunity the Art Museum had to offer me. And boy has it paid off.
Fast-tracking my career
As I wrap my time up at the UQ Art Museum, I leave having secured incredible work opportunities and with my career on fast-track. Whilst at the Art Museum, I was incredibly fortunate to work as a Public Programs Assistant for the Institute of Modern Art (IMA). The skills I learned in such a short amount of time readily equipped me for this role, and I can't say that I wouldn't have been so fortunate if it wasn't for the UQ Art Museum. This could also be said for my current role as Assistant Curator, Indigenous Australian Art at the Queensland Art Gallery | Gallery of Modern Art, which I still find I'm pinching myself about.
The UQ Art Museum provided me with an industry-specific, career-relevant internship that without, perhaps would have seen me take a very different path. As a training institution, it provides critically needed opportunities for emerging arts workers. Internships such as the Kinnane Endowment Fund internship are invaluable, and although I have attempted to put into words what they do and mean to people like me, I don't think there's enough words to fully ever capture that. In short: life-changing.